Shane's – The Pawn Shop, Inc
Why do many go to pawnshops more than banks?
By Michelle V. Remo
Philippine Daily Inquirer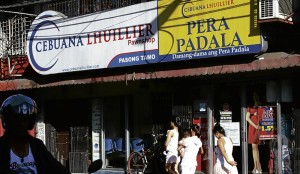 For many Filipinos, pawning jewelry at a neighborhood pawnshop has been the most common and quickest way to address an urgent need for relatively small amounts of cash.
Compared with banks, pawnshops do not impose as many documentary requirements before releasing cash to customers. Moreover, the latter are more accessible, as they may be found even in remote areas where banks do not operate.
But despite the essential role these financial-service providers play, pawnshops still suffer from a bad reputation of preying on middle- and low-income Filipinos. The perception remains that pawnshops have a tendency to take advantage of people in need of cash through profiteering, and that many of them are fly-by-night operators that steal pawned jewelry.
The Bangko Sentral ng Pilipinas, which has a division dedicated to regulating pawnshops, agrees that the pawnshop industry continues to suffer a stigma. It admits that it receives complaints involving pawnshops from time to time, usually in terms of operators that suddenly disappear without notifying customers about how they could get their pawned assets back.
The BSP, however, says the proportion of erring pawnshops to the total number of industry players is miniscule. Ma. Belinda Caraan, officer-in-charge of the central bank's integrated supervision department, says the number of pawnshop branches that have been the subject of complaints is equivalent to less than 5 percent of the industry's network.
The pawnshop industry has a network of nearly 17,000, which include head offices and branches. Of the number, about 10,000 are engaged solely in the pawning business. The rest also operate auxiliary businesses, such as money changing, remittance facilitation, and bills payment facilitation.
MOA with LGUs
"Until now, there is still the negative view that pawnshops prey on consumers. We want to help the industry change its image," Caraan tells SundayBiz.
To do the task, Caraan says, the BSP is intensifying its coordination with local government units (LGUs) as far as monitoring pawnshops is concerned.
She says that under a recently updated memorandum of agreement (MOA) between the central bank and the Department of the Interior on Local Government (DILG), the two government institutions shall engage in information sharing for the purpose of better regulation of pawnshops.
Caraan says constant enhancement of regulation, with the aim of bringing down the number of erring or fraudulent pawnshops to almost zero, will help improve the public image of the pawnshop industry.
In one of the central bank's latest initiatives, its representatives, with assistance from LGUs, conducts random visits of pawnshops all over the country. The BSP targets to cover 500 pawnshops until 2015, and an even larger number in the succeeding years.
In the spot visits, Caraan says, BSP representatives check if a pawnshop is duly registered and if it complies with various regulations.
Caraan says most of the pawnshops that have been the subject of complaints are not registered businesses. She advises people planning to pawn a property to first check the website of the BSP to see if the pawnshop to be visited is registered.
Training
The BSP likewise holds training seminars for pawnshop operators and their staff. She says such training is conducted at least once a month by BSP personnel all over the country. The training covers a wide range of topics, including ethical business behaviors, valuation of assets, and detection of money-laundering activities, among others.
Training helps improve the manner of service delivery by pawnshops, Caraan says.
"We like people to develop a positive view of pawnshops. We want the public to perceive pawnshops not only as accessible, but as reliable and trustworthy providers of financial services," Caraan says.
Service providers
Minda (not her real name), an employee at Palawan Pawnshop in Mandaluyong City, says in a random interview with SundayBiz that pawnshops must be perceived positively given the vital role they play in meeting short-term financial needs of many Filipinos.
"For many Filipinos who are short of cash, pawning is the easiest way to solve their problem. It is much easier to raise money through pawning than securing a bank loan," she says in Filipino.
She says the pawnshop she works for receives between one and six customers, mostly from the neighborhood, pawning jewelry in a day.
Janet, a mother in her 50s and who has been a pawnshop customer, says pawning has been a reliable means to meet her immediate need for cash.
"For instance, if there is an urgent requirement for house repair and I fall short of cash, all I have to do is visit the nearest pawnshop," Janet says. "It is not advisable to go to a bank and try meeting all its requirements if what you need is just a small amount of money," she adds.
Expanded role
Because of their wide reach, pawnshops are identified by the BSP as entities for "financial inclusion." The term refers to the act of making various financial services (such as payment facilitation, remittance facilitation, money changing, micro loans, and micro insurance) accessible even to people in far-flung areas.
A study by the BSP released earlier this year said only two out of 10 Filipinos have bank accounts. The BSP said the information is an indication that banking services are still mostly concentrated in urban areas and are not reaching most Filipinos in rural communities.
Caraan says, however, that pawnshops are capable of filling the gap.
Unlike a bank, a pawnshop is much easier to put up. This is the reason they are much bigger in number compared with banks. While there are nearly 17,000 pawnshop head offices and branches in the country, there are only about 9,000 bank head offices and branches.
The wider reach of pawnshops is largely credited to the ease in putting them up. Compared with a bank, a pawnshop requires less space, less staff, and needs much less capital (each pawnshop branch is required by the BSP to have a capitalization of just P100,000), according to Caraan.
"There is a push for financial inclusion, and pawnshops are seen to help achieve the goal of having more Filipinos access financial services," Caraan says.
Some of the auxiliary services that many pawnshops now offer include remittances facilitation, money changing, and bills payment facilitation. Moreover, a few also now serve as "cash in-cash out centers" and offer mobile banking services.
Under the mobile banking concept, an individual may open an electronic account with a "cash in-cash out center" (which may be a pawnshop) for a measly amount, usually P100. To open an account, the individual fills out a form with the cash in-cash out center and registers his cellular phone number.
Once an account has been opened, the individual may place a deposit by buying a "mobile phone load" from the cash in-cash out center. He will then encode details of the "load" to his electronic account using his cellular phone.
Moreover, an individual with a mobile banking account may also receive money. If someone (who must also have a mobile banking account) sends money to the recipient's account, the latter shall be notified through text. The recipient may then go to a cash in-cash out center to get his cash.
The BSP said that as the practice of mobile banking further develops, the number of Filipinos that do not access financial services and that do not have bank accounts is expected to diminish over the next few years.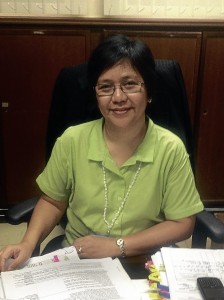 Ma. Belinda Caraan
Besides providing mobile banking services for low-income Filipinos, Caraan says, pawnshops in the future may also provide other financial services. With proper regulatory framework, the BSP believes there is scope for pawnshops to also sell micro insurance and provide micro credit, she says.
"They serve the important role of making financial services—and even more kinds of such services in the future—reach the poor and those who reside in remote areas. Indeed, pawnshops are important to the economy," Caraan says.
Shane's Pawn Shop, Inc
413 W. Lincoln Hwy 
Chicago Heights, IL 60411 
(708) 747-1171
E-mail: Shane's Pawn Shop
Please feel free to sign up for our newsletter on the Right Sidebar – so you can keep up with our latest updates! 
Great deals, pricing, specials, raffles & More!